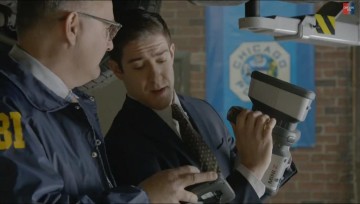 January 15, 2015
The MINI Z™ handheld Z Backscatter® screening system appeared on episode 211 of "Chicago P.D." In the January 14th episode, the MINI Z system was featured in a realistic scene to help uncover currency hidden in a plastic gas tank. View the episode online here (MINI Z system can be seen at minute 21).

The MINI Z system is the world's first handheld Z Backscatter imaging system, providing law enforcement, public safety, security, and port and border officials with fast, portable, real-time detection of concealed threats and contraband, even in the most hard-to-reach places. By leveraging AS&E's signature Z Backscatter technology, the system can detect drugs, explosives, and other organic materials concealed behind non-metallic surfaces. Using the MINI Z system, security personnel are now able to quickly assess a suspicious object or location and determine—in just minutes—if explosives or other threats are present in unattended bags and packages, furniture, pleasure craft, small aircraft, and vehicle tires, seats, and panels. Experience the MINI Z system with a virtual demo at www.meetminiz.com.
Since its introduction in 2014, the MINI Z has been named Popular Science magazine's "Best of What's New" and was recognized as an ASIS Accolades Award winner and the top honor of "Judge's Choice" for Most Innovative New Product. Recently, the MINI Z system scored its first real-world drug bust, seizing a large quantity of well concealed marijuana valued at more than $150,000. AS&E has received initial MINI Z bookings and has begun to ship systems to end-users and key channel partners around the world.
About "Chicago P.D."
From multiple Emmy Award-winning executive producer Dick Wolf and the team behind the hit series "Chicago Fire," "Chicago P.D." is a riveting police drama about the men and women of the Chicago Police Department's elite Intelligence Unit, combatting the city's most heinous offenses - organized crime, drug trafficking, high-profile murders and beyond. "Chicago P.D." is produced by Wolf Films in association with Universal Television.
About AS&E
American Science and Engineering, Inc. (AS&E) is the trusted global provider of threat and contraband detection solutions for ports, borders, military, critical infrastructure, law enforcement, and aviation. With over 50 years of experience, AS&E offers proven, advanced X-ray inspection systems to combat terrorism, drug smuggling, illegal immigration and trade fraud. AS&E systems are designed in a variety of configurations for cargo and vehicle inspection, parcel inspection, and personnel screening. Using a combination of technologies, these systems provide superior detection capabilities, with high-energy, dual-energy, and Z Backscatter X-rays. Learn more about AS&E products and technologies at www.as-e.com and follow us on Twitter @ase_detects.
Public Relations Contact:
Dana Harris
Red Javelin Communications, Inc.
978-440-8392
dana@redjavelin.com
Laura Berman
American Science and Engineering, Inc.
978-262-8700
lberman@as-e.com